Al Tid - 48 days in Viet Nam
After weeks of traveling through Da Lat, Hoi An, Da Nang, Hue, Phong Nha Ke Bang, Mu Cang Chai, I went to Hanoi to wrap up my 48 days of traveling.
When I arrived in Hanoi, I had the desire to paint a few walls there, so i located best place in town; a combined paint- and tattooshop.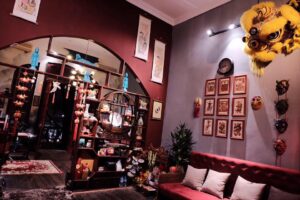 (Taurus Tattoo – Tầng 2 – 184 Quán Thánh, Ba Đình Hanoi, Vietnam), which provided me with a handfuld of spots of the scene in Hanoi… And I was impressed!
Street Art in Hanoi
Seeing the high standard artwork on the streets of Hanoi, I wanted to give something back and in a way make a finishing mark, encapsulating and conveying the experiences, I have had in Vietnam.
Check out these artists:
he last destination before Hanoi, was the marvellous and astonishing place of Phong Nha, one of the most beautiful places in Viet Nam, sporting the biggest cave in the world, and at least 349 other known caves. The experiences of visiting the accessible caves had a lasting impression on me.
I have never been inside caves like this and is unlike anything else, I have seen. I only went to two caves, which was:
Paradise Cave – took an extended tour, deep within the mountain, wearing headlights and courage and Phong Nha Cave.
The whole nature park had amazing mountains, green fields and jungle, and I could spend days just immersing myself in the lush, green world, abrupted by greyish coloured cliffs.
TIP: There is a need of artists to decorate the hostels, farmstays, building around Phong Nha Ke Bang, so if the city is on their path, then send me a mail, and I can hook you up!
The mountains are calling me.

Picking the colours from the interior of the mountains, the jagged and shiny surfaces of the towering walls inside the walls.

The silent dampened drops of Eternity and Darkness.
An exploration of letter shapes and figurative elements – incorporating features of mountainscapes, stalagmites and the stillness of the innerscapes of the caves.

Taking the mountains deep within you, but leave nothing

but footprints in your memory.
Hall of Fame
I really went all out, making a 12-meter x 2 meters piece. This time I wrote AL TID, which again has multiple meanings:
ALTID means ALWAYS.
AL TID means that it All Time, like in All the time in the world.
AL TID, all time which has existed, exists now and will exist in the future, like the vast span of time.
Stone, air, water, animals and water have changed this environment for millions of years. It has existed alongside evolution.
Many unheard and untold stories. The Past of the Future.

The moment, the minuscule and micro-moment. Looking at these walls, these ornaments, these fractions and frozen lifeforms. Walking deeper and deeper within, shadows dancing on the walls.
It has been a few years since I have soloed that big part of a wall, so there's both some good as well as less good elements in it, it's more a part one, an invitation to what comes next. – I have a few paintings awaiting to be posted already
Staying value
The wall became an exploration of letter shapes and figurative elements, giving my output a more loose and abstract form, but definitely leaving a proper mark amongst the other great artists staying in Hanoi.

Because I visited Hanoi at the specific time of the year, the weather was a pretty bit unpredictable, so if it had only lasted sunny and dry a few more days, I would have done a collaboration, combining characters and my "style", but that would be next time. – Hoping to attend the Meeting of Style in Vietnam 2019!
Going back?
As once heard; its always nice to have something to return to – and the very hospitable and extremely attentive, caring vietnamese locals, is the definitely a "pull"-factor and yeah! .seeing my work posted on instagram as the backdrop also helps it along the way!
TIP:
If you want to check out other works in Viet Nam, then read about my first wall here and my second wall here.